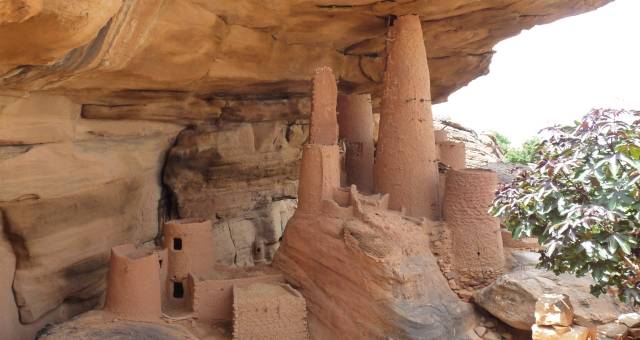 Vero Tours S.A.R.L.
Rue 768, porte 503
Baco Djikoroni ACI
Bamako - Mali
Tel. +223 78683275 / 73180186
Reg.-Nr.:
11-023/VS/API-MALI-GU
41159195001049T
_____________________________
.

Welcome to Vero Tours!

Vero Tours is a tour operator located in Bamako/Mali, owned and managed by Veronika Staltmanis, a tourism professional with 20 years of experience in ground handling and tour leading in West Africa, Kenya and Madagascar. Her long-standing commitment to professionalism in the travel industry and the first-hand knowledge she gained on more than 150 trips throughout the world make her a reliable and competent specialist for your exploration of the subcontinent.

Why choose Vero Tours?

Small group sizes: Our trips are limited to a maximum of 15 participants.

Tailor-made trips: If you cannot find your desired tour contact us, and we create your perfect individual trip meeting your budget.

Quality and Safety is our toppriority. We keep our clients informed about travel advices and adapt our itineraries to the current security situation in our destinations. We recruit only experienced drivers who meet our high standards for safety and reliability. According to the feedback we receive from our clients we constantly optimize our trips. Your quality requirements are reliably fulfilled by our team of European and African tourism experts while keeping the authentic feel of your travel destinations.

English speaking tour leaders and guides will conduct your trip. A part of our journeys will be accompanied by the company owner herself.

Service and information from your on-site expert: We keep up-to-date by living and working in West Africa. This enables us to keep you informed about all our destinations and give you the best possible service. We have long established good relationships with our partners and suppliers throughout West Africa. Stay in touch with us!

Staff profiles:

Boureima Sissoko

33-year-old Boureima was born in Bandiagara, one of the major towns in Dogon Country. His father is Malinké and his mother Peulh. He studied German at the University of Bamako and has worked 6 years as a German language teacher. His other passion is travelling. In 2007 he started to work in tourism. He has since accompanied many trips not only in his country Mali but also in Guinea, Guinea-Bissau, Sierra Leone, Liberia and Ivory Coast. Along with German Boureima speaks English and French. When he is not on tour he likes to teach German and to play sports.

Mamadou Dolo

Madou, as his friends call him, is a genuine Dogon from Sangha. Twenty-six year old Madou has studied German at the University of Bamako. In spite of his youth he brings a perennial guiding experience to the table. He began his travel career with trips through Mali and over the past few years has conducted many trips to Burkina Faso, Niger, Benin and Togo. In his free time Madou likes to read German books.

Mohamed "Ada" Oumar

Ada was born in Niger and raised in the north of Mali, in the town of Arouane deep in the Sahara desert. He came to Bamako when he was 20 years old. In the 1990s Ada has worked as a professional driver in Guinea for 7 years. He knows West Africa like the back of his hand. In the company he is the driver for trips to Guinea and Sierra Leone.

Sory Kanté

Sory was born in Bamako, but his family is originally from Guinea. His passion for driving started when he finished school. He has since become a professional driver with over 20 years of driving experience taking clients from many countries to most West African destinations including Ghana, Benin, Togo, Sierra Leone, Guinea Bissau, Burkina Faso, Guinea, Liberia and of course his country Mali. Sory's most at home on a four-wheel drive vehicle, a minibus, a truck or a large coach driving visitors safely across West Africa.

Adama Guindo

Born in 1970 in the small village of Ennde in Dogon Country, Adama came to Bamako in 1997 to work as a national guide. Prior to life in the Malian capital he had gained already first practical experience in Enndé where he showed tourists around his village. Along with Dogon, Bambara and Peulh language he speaks English and French. If he is not on a trip across West African countries Adama spends his time travelling through Europe. He loves to discover foreign countries, their people and cultures.

Mahamadou "Man" Traore

Mahamadou is Dogon, born and raised in Bandiagara. Since more than 18 years he is one of the leading guides in the Dogon Country. Man, as he is called by his friends, speaks English and French as well as the local languages Dogon, Bambara and Peulh. His father was a talented artist and he taught Man his skills. Whenever he has time he carves masks and statues. Mahamadou is a gifted story-teller, he loves to tell the captivating myths and legends of his people.

Ibrahim Cissé

Forty-four-year-old Ibrahim was born and raised in the thousand year old city of Djenné. He started his career as a local tour guide at the age of 16. Along with the African languages Bambara, Peulh, Sorai and Bozo he speaks French and English. The love for his hometown makes Ibrahim an excellent guide of Djenné.

Mamadou Diallo

Mamadou is Peulh, he was born and raised in Dalaba, Guinea, in the heart of the Fouta Djallon Highlands. He is the director of the tourist office at Dalaba and also works as a tour guide. Mamadou is our man in Guinea.

Veronika Staltmanis

Veronika was born and raised in Pforzheim, Germany. She studied French and Russian at the Johannes Gutenberg University of Mainz, Department for Applied Linguistics and Cultural Studies in Germersheim. During her studies she was employed for the first time as an assistant tour leader and discovered her passion for travel. After working for 10 years as a translator and interpreter she began her career in the travel industry in 1996. For five years she was a rep and tourist officer in Turkish, Spanish, Maltese and Kenyan summer holiday destinations before she began to work as a tour leader in 2001. She has travelled to over 60 countries in Europe, Asia, Africa and America. Her love and addiction to West Africa led her to her country of choice: Mali. She is the owner and director of Vero Tours, but even after many years in the business, she maintains the enthusiasm to conduct tours herself.

.

Our Code of Practise

ResponsibleTourism

Dear guest!

You travel to countries where traditions and cultural and ethical values essentially differ from western way of life. In West Africa century-old cultures are still maintained, please help us to preserve them! We are particularly committed to responsible tourism based on mutual comprehension and respect which is a prerequisite for supporting economically the people in your holiday destination while at the same time protecting their values and cultural heritage.

For this reason, we include different projects in our programme which aim at this goal, e. g in Dogon country we visit museums and projects created by the communities with the support of the Mission Culturelle in Bandiagara cooperating with the German Society for International Cooperation GiZ. In this context, the Mission Culturelle whose main task is to preserve the cultural heritage of the Dogon and to stop theft of their antiques has initiated the construction of a museum in Soroly which we visit during our trips as well as the exposition of traditional craftsmanship techniques in Enndé as well as an indigo dyer to mention only some of the projects.

Fair Tourism

With your trip to West Africa you contribute considerably to the creation of jobs in your holiday destinations, thus improving the living conditions of the local people. This concerns local drivers and guides as well as hotel staff, owner of small campements, craftsmen and vendors who sell the ingredients of your meals at the markets. This way, your money will go directly to the local people.We also discourage our clients from buying and illegally exporting antiques, and endangered animals.

Tolerant Tourism

During your journey you'll have a lot of opportunities to meet with members of West Africa's different tribes and peoples and get in touch with the population. We prepare our clients for these encounters by sensibilizing and briefing them. We'll provide profound insights into foreign cultures and living styles and by doing so we hope to encourage our clients to reflect, overcome prejudices and create tolerance and mutual understanding between the cultures.
Vero Tours © 2012 • Privacy Policy • Terms Of Use